FL Leadership Summit 2020
The FL (Forward Ladies) Leadership Summit 2020 is set to be one of the largest online conferences for women to date with 1000+ attendees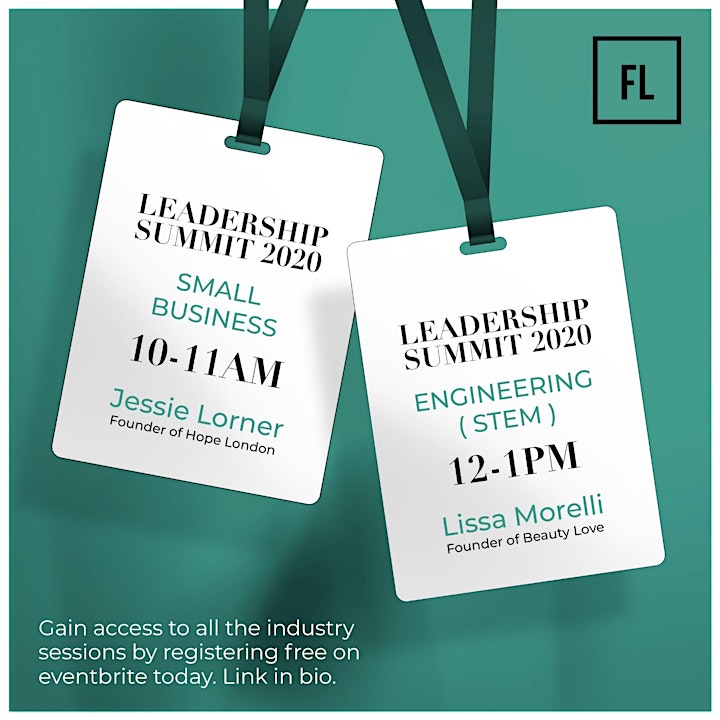 The Event
The FL (Forward Ladies) Leadership Summit 2020 is set to be one of the largest online conferences for women to date. It is bringing together women from all levels, in different organisations, to tackle what will be the biggest discussion on the advancement of gender and encouraging the growth of women in this generation.
Each year, the FL Leadership Summit programme, recognises leading women and male agents of change, from across the UK and beyond, sparking effective conversation on supporting gender equality.
Date: Thursday 16th July 2020
Location: Zoom (Online)
Time:10am to 4pm
This year, the theme is "Female Leaders- Whats next?" and we will bring together carefully curated expert panels, as well as industry-leading speakers to share thoughts on how we create a safer, healthier and more gender-balanced working environment for all.
Industry Specific Panels include: Leadership, Small Business, BAME Leaders, Finance, Engineering and Technology
Panel Moderators
ARTI HALAI
Arti Halai is a broadcaster, entrepreneur, public speaker, and author. She has more than fifteen years experience working in the media industry as a Television presenter, producer and reporter. She is Co-founder of the Fleet Street Group.
MAILA REEVES
Maila Reeves is a former lawyer and an experienced angel investor in disruptive technology-based businesses, Maila was named as one of the top 100 Tech people in the UK (Tech City Insider). She is a mentor and strategy consultant to numerous startups and social enterprises and is a frequent speaker and panellist at business conferences and networking events.
RASHMI DUBE
Rashmi Dube is the managing director of the multi-award-winning legal practice Legatus Law. She has been working in the legal profession for some 20 years, qualifying as a solicitor in England, UK. As well as being an expert business solicitor, lawyer and mediator, she is also a business mentor and dedicates time to charities. Rashmi is recognised as a leading voice for the SME sector in the north of England and is often invited to share her opinions on the BBC.
RACHEL HANNAN
Rachel has successfully founded, grown & exited businesses, before becoming an Angel Investor and advisor supporting other businesses to grow. She has experience as a Chairman and Non-Executive Director across companies, charities and a University. Selected as one of Grant Thornton's Faces of a Vibrant Economy in 2018, her portfolio now spans organisations employing well over 2,000 people and she has invested 7 figures in businesses and building affordable homes to date.
RICHELLE SHUSTER
Richelle leads an innovative service called Growth 365 for Grant Thornton. A service designed to support CEOs and their management teams to think differently about how to accelerate growth, adapt and innovate. A background in design has given her a valuable tool-kit to manage change for others.
Charity
For the 2020 FL Leadership summit, we will be raising funds and putting a charitable donation towards the Young Women's Trust charity.
Young Women's Trust is a feminist organisation working to achieve economic justice for young women. To support this, you can purchase an 'Admission and Charity Donation' Ticket
About FL
FL is the organisation that is empowering women and other like-minded organisations to close the gender gap in business. We actively seek to work with employers who are committed to establishing a supportive and diverse workplace for women, throughout all levels of the organisation.
Using six sets of initiatives, FL works to bridge the gap and drive diversion and inclusion strategies amongst women in all organisations, giving them an advantage in a global multicultural market.
FL have worked with many respectable global organisations as clients, such as Coca Cola, Leeds Business School, Sky gaming, GKN Aerospace, Yorkshire Water and many more.
Testimonials
"It was a real honour to be among a room of fabulous women and fellow nominees in my category. I thought the afternoon was really wonderful and a great celebration of many women's achievements."
Sarah Caswell, Clarion Solicitors, nominee.
"Just to say thanks for the WIBA, we at WGN thoroughly enjoyed the day and so did our guests."
Amanda Child, Chartered Accountants, sponsor
"The whole day was great. It is such a popular event and it is lovely seeing old friends and making new ones." Rachel Spencer Robb, LCF Law, sponsor
FAQs
Where can I contact the organiser with any questions?
Forward Ladies head office, tel 0845 64 34 940 or email enquiries@forwardladies.com
What is the refund policy?
Please see our terms and conditions on our website for more information should you need to cancel or amend your booking: www.forwardladies.com/about/terms-and-conditions/
How do I become a Forward Ladies Member?
Signing up to the conference, you are automatically given login details to become a member. To upgrade, please see our Membership options on our website. www.forwardladies.com